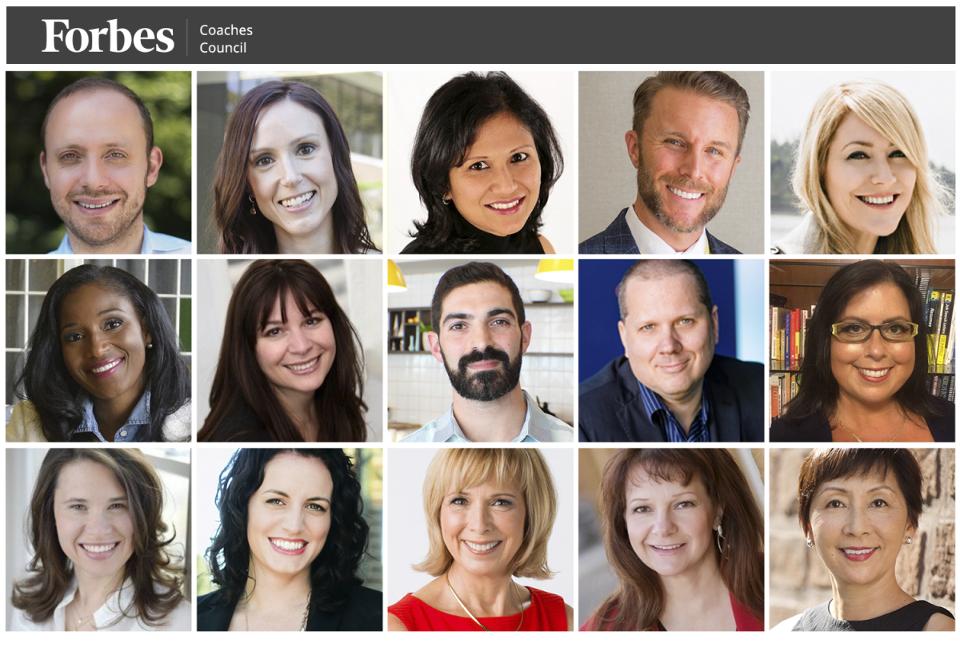 Top business and career coaches from Forbes Coaches Council offer firsthand insights on leadership development & careers.
Employers and hiring managers don't typically give much thought to onboarding new employees aside from giving them a general tour and assigning them a first task. Few of them actually have a plan to make new hires feel welcome and appreciated by making sure they are included in the organization's culture as soon as possible.
Onboarding should be more than an afterthought. It is actually considered the second most important HR practice after recruiting in terms of the impact it has on a business, according to research from consulting firm BCG. It is especially important if the new hire is a millennial or a fresh college graduate who is just joining the workforce, since proper onboarding will result in high employee loyalty and retention, ultimately leading to higher growth and profit.
Below, 15 members of Forbes Coaches Council share a series of easy onboarding practices and techniques that will help your new employees feel right at home in your organization
Forbes Coaches Council members list the top ways companies can help make new employees feel valued.
Offer Quick Feedback And Transparency
Millennials thrive on instant feedback and knowing everything that goes on in the company. It's never your bank of knowledge as an employee, but your ability to learn quickly, that matters most. Employers who cherish this trait would also be wise to organize hack-a-thons and other events to harness millennial idealism, the desire to contribute in some meaningful way. Most importantly, listen to them! – Yuri Kruman, Master The Talk Consulting
Inspire New Hires To Share The Knowledge
New hires can be overwhelmed by the amount of information thrown at them during the onboarding phase at a new company. Welcome them to the organization by allowing them to share some of their experiences or skills. Your new employee will get to shine in their sweet spot, and you'll be setting the stage early that it's a collaborative working environment. – Lizabeth Czepiel, Lizabeth Czepiel, LLC
Set Up Meetings To Introduce Them
New employees often feel lost or left out in the first few days. The best way to welcome them is to set up meetings and introduce them. Have a schedule for them to meet three new people in an informal setting every day. Arrange breakfast, lunch and coffee meetings for them. By exposing them to more people, the newcomer has a chance to start mingling and begin to build relationships and feel at home. – Gia Ganesh, Gia Ganesh Coaching
Assign Them A Mentor
Generation Y and Generation Z have high expectations of their employers. So, provide these new hires with a mentor who passes along institutional knowledge, offers on-the-spot feedback, and willingly accepts reverse mentorship. Your organization will benefit with increased engagement, retention and productivity. Take the "mass customization" approach and offer an à la carte menu of ways the mentorship can occur. – Michael S. Seaver, Seaver Consulting, LLC
Ask Them About Their Dreams
Ask them what they dream about doing. Then discuss how this first position can help them network and learn the technical, people, organizational and leadership skills they will need to be successful well into the future. Encourage them to write their own one-year, two-year and five-year professional development plans. Tell them you are rooting for their ultimate success and are there to help. – Susanne Biro, Susanne Biro & Associates Coaching Inc.
Create Professional Development Opportunities
According to Gallup, 87% of millennials say professional development is very important to them in a job. Therefore, organizations should create development opportunities from day one of a recent college graduate's tenure. Development has shifted over the years. Organizations are now offering job shadowing, job swaps, and time swaps to optimize development and career growth opportunities. – Alicia Reece, The Reece Group
Give Them An Onboarding Buddy
A critical component of an inspiring workplace for Generations Y and Z is a sense of teamwork. Build this value into their new job by pairing each new hire with an onboarding buddy. Suggest upfront how they can together learn the politics, processes and people at their new job. Provide in-person, virtual and mobile communication platforms so they can collaborate and leverage this useful tool. – Loren Margolis, Training & Leadership Success LLC
Communicate Your Purpose
Communicate your organization's purpose and how it makes the world a better place. Nearly two out of three millennials state their organization's purpose is a reason why they choose to work there. Share your purpose with new employees and allow them to see the role they will play. Knowing you can make an impact provides new hires with inspiration and excitement for joining your team. – Aaron Levy, Raise The Bar Consulting
Have Them Work In Tandem With Others
One of the best ways to accelerate onboarding and learning is to pair new people up with existing employees to work on their projects and learn by seeing someone else do the work with them. This promotes bonding, collaboration and integration as well. It is much more powerful than just assigning a mentor when you have two people actually sharing a keyboard and doing some real work together. – Steffan Surdek, Pyxis Technologies
Provide Clear Guidelines And Support
A first job is usually met with a host of butterflies, excitement, and a desire to excel. The most critical element to nurturing that is an environment that provides clear guidelines on goals and expectations, and the support to make that possible. Complement a new hire's desire to shine with tools that make it possible — a strong team, direct point of contact, and project/position milestones. – Laura DeCarlo, Career Directors international
Give Them A Project Right Away
Millennials and new employees, really of any age, want to make an impact and contribute right away. Ask the employee to help the company address a specific problem with the support of their team. This will serve as a productive and engaging orientation to the organization's processes, culture and people. Capitalize on young/new employee energy with this meaningful opportunity to make a difference. – Meghan Godorov, Meghan Godorov Consulting, LLC
Host An Open House
When applying to colleges, prospective students take campus tours, shadow classes and speak with current students. These events help students assess the institutional culture; however, companies rarely adopt similar practices. Host an open house and help new grads envision themselves working at your company. This will differentiate your company's brand, while also enhancing applicant quality. – Lindsey Day, Magnetic Career Consulting
Take Them To Lunch
Executives who lunch with new hires or teams of newly graduated employees build rapport, inspire an immediate sense of connection and gain valued insight from a new perspective. Keeping up with current trends and gaining feedback on the changing needs of employees provides a priceless return on investment. Employees benefit by hearing the organization's vision from the source: its top executives. – Debora McLaughlin, The Renegade Leader Coaching & Consulting Group
Look At The Team Surrounding Your New Hires
Is your new employee coming into a demoralized, dejected group of burned-out employees or a team known for innovation, outstanding performance, and ideation? Don't underestimate the impact your existing culture can have on an impressionable junior employee. Make arrangements for a solid, motivated performer to mentor (and help retain!) your newest team members into results-driven contributors. – Laura Smith-Proulx, An Expert Resume
Give Them Someone They Can Turn To
They're excited and ready to make an impact, but they're probably also nervous and unsure about a range of topics. Give them someone they can turn to who truly cares about keeping them inspired and engaged. This may not be their direct manager, who might be more concerned about getting the work done and evaluating them than about helping them to navigate their way through their first few years. – Diane Chang, Diane Chang Coaching