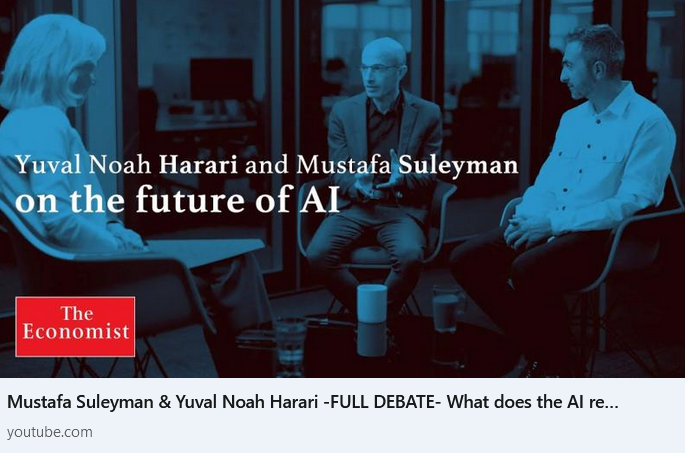 Must-See Debate on the Future of AI
In a riveting discussion moderated by The Economist's Editor-in-Chief, Zanny Minton Beddoes, DeepMind co-founder Mustafa Suleyman and acclaimed author Yuval Noah Harari delve deep into the ramifications of the AI revolution on our immediate and near future.
Top-Line Takeaway for CEOs and Executives:
The AI revolution is not just about technology; it's about shaping the very fabric of the future society. The control and agency of AI are pivotal discussions today, steering not just business strategies but also governmental policies and ethical norms. Being at the forefront of understanding these dynamics is no longer a choice but a necessity for every leader.
– Can AI be controlled?
– Does it have agency?
– What does the future hold with the rapid advancements in AI technology?
In closing, Yuval Noah Harai states that we invest so much in AI but he hasn't seen anything yet that simultaneously addresses our own scope for development:
"If, for every dollar and minute we invest in AI, we invest another dollar and minute in developing our own consciousness and our own minds, I think we will be okay. But I don't see it happening. I don't see this kind of investment in human beings that we are seeing in the machine."
Find out as two of the brightest minds in the field share their insights and predictions. Don't miss this opportunity to stay ahead in the ever-evolving landscape of AI.
#AIRevolution #FutureOfAI #DeepMind #YuvalNoahHarari #MustafaSuleyman #ArtificialIntelligence #TechnologyInsights #ExecutiveInsights #CEOInsights #LeadershipInTech